Introduction:
Machined castings which are featured with high efficiency, long service life, durability, robust body, resistance to chemical, corrosion and high temperature. Entire ra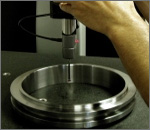 nge of products can be machined our of grey iron, S.G. iron, or other kind of iron as per the requirements.
Process:
A machined casting can be made from any metal using a stereolithography prototype built using a QuickCast style. Once the part is approved by the customer, the QuickCast prototype is dipped in a ceramic slurry, which is allowed to harden. The QuickCast process builds a stereolithography part with a solid outer skin and a hollow, honeycombed inside. This thin-walled structure disintegrates when the ceramic is heated. A metal of the customer's choice is poured into the empty mold. The ceramic is broken away, the part is machined (adding threads and removing burrs), and the metal casting is complete.
Inspection:
All machined parts are subjected to rigid quality requirements including first piece approval, in-process inspection, and a final inspection. Inspection can be done using measuring equipment including CMM, optical comparators, profilometer, and calibrated gauges calibrated to N.I.S.T. Standards.
The machining and Fabrication department should include a variety of machine tools. Tight tolerances are held using tested methods and equipment.Large cast and welded components are machined using four Ingersoll portal-type machining centeers. Other equipment consists of horizontal machining centers, CNC boring mills, a column machining center, five-axis turing centers, CNC lathes, vertical boring mills, planer mills, grinders and gear shapers.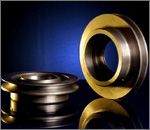 Applications:
Range of products can include bearing covers and pulleys of different sizes and dimensional specifications.
Advantages
Provides good dimensional tolerances through strong core and mold
Provides excellent casting surface finishes
Generally used for high-production runs
Accommodates a wide range of core and mold sizes.
When used for making cores, the CO2 process can be automated for long durations & speedy production runs.