This is a pattern that is made in two halves split along the parting line. The two halves are held in register by pins called pattern dowels. The pattern is split to facilitate molding.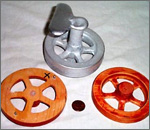 The dowels hold the two halves of the pattern together in close accurate register, but at the same time are free enough that the two halves can be separated easily for molding. Like the pins and guides of the flask.
The dowels are usually installed off center in such a manner that the pattern can only be put together correctly.
A dowel is a solid cylindrical rod, usually made of wood, plastic or metal. In its original manufactured form, dowel is called dowel rod.
Dowel rod is employed in numerous, diverse applications. It is used to form axles in toys, as detents on gymnastics grips, as knitting needles and as structural reinforcement in cabinet making. Dowel rod is often cut into short lengths called dowel pins, which are used in various ways:
Steel dowels are commonly used in masonry to pin stone components together. Holes are bored in the stone and the steel dowels inserted to secure the components.