Cold chamber die casting machines or cold chamber machines are used for alloys such as aluminum and other alloys with high melting points. The molten metal is poured into a "cold chamber," or cylindrical sleeve, manually b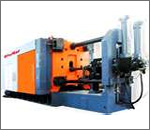 y a hand ladle or by an automatic ladle. A hydraulically operated plunger seals the cold chamber port and forces metal into the locked die at high pressures.
Modern die-casters use a number of sophisticated methods to automate the die casting process and provide continuous quality control. Automated systems can be used to lubricate dies, ladle metal into cold chamber machines and integrate other functions, such as quenching and trimming castings. Microprocessors obtain metal velocity, shot rod position, hydraulic pressure and other data that is used to adjust the die casting machine process, assuring consistent castings shot after shot. These process control systems also collect machine performance data for statistical analysis in quality control.
Cold chamber die casting is one of the fastest and most cost-effective methods for producing a wide range of components. However, to achieve maximum benefits from this process, it is critical that designers collaborate with the die caster at an early stage of the product design and development. Consulting with the die-caster during the design phase will help resolve issues affecting tooling and production, while identifying the various trade-offs that could affect overall costs.
For instance, parts having external undercuts or projections on sidewalls often require dies with slides. Slides increase the cost of the tooling, but may result in reduced metal use, uniform casting wall thickness or other advantages. These savings may offset the cost of tooling, depending upon the production quantities, providing overall economies.
Feel free to send your query to buy or for more information on cold chamber die casting machines, cold chamber machines, or cold chamber die casting process.